Whether it was the mainstream A Nightmare on Elm Street and Scream, or his grindhouse flicks Last House on the Left and The Hills Have Eyes, Wes Craven was one of those directors who made at least one film everyone loved.
I can remember back to when I was 5 and was first introduced to his work. I had been watching a few films from my sister's horror movie collection at the time, and came across two notable Craven works: the mainstream ones mentioned above. A Nightmare on Elm Street was particularly effective, as I can remember being absolutely disgusted during the scene where Tina's corpse is standing in a body bag and begins distracting Nancy by vomiting a mixture of centipedes.
I don't think I've actually seen that clip mentioned much amidst fans of the film. Most remember Freddy Krueger in his usual iconic outfit. You know, the signature red and green sweater with fedora? Craven supposedly came up with the outfit based on the appearance of a homeless man who had looked into Craven's bedroom window one unpleasant night. And that's the kind of creativity I applaud Craven for – he merged his real life nightmares seamlessly with the horrors of his films. I think that's part of why they work so well – even the most outlandish of his concepts have a sort of realism to them.
Look at Craven's The Hills Have Eyes – it might seem unbelievable when you first hear about the plot.
Oh, mutants living in the desert? Yeah, right.
But the original film is notable for using actor Michael Berryman who has actual physical deformities, which produces something makeup and special effects cannot. And when you see this actor play his role, it's just phenomenal. You really get the feeling that this could be one of many crazy people living out in the desert. And why not? I personally live in the desert, and I can easily imagine that out beyond the bordering hills there could be a wandering psychopath or two…
Between the cast, and the gritty way in which it was shot, The Hills Have Eyes is a realistic nightmare that makes you think twice about when and where you choose to camp out at night.
And Craven managed to bring this nightmarish realism to suburbia just the same. His film The People Under the Stairs is a perfect example. It focuses on a couple who actually abduct and mutilate children, tearing out their ears, eyes, and tongues when they misbehave. Something like this might sound unreasonable, but just watch the news. There's people who do unspeakable things to their children and other kids all of the time. And Craven was one of the few people to actually film it on such a large scale, even if some audiences would consider the film too cheesy or dated by today's standards.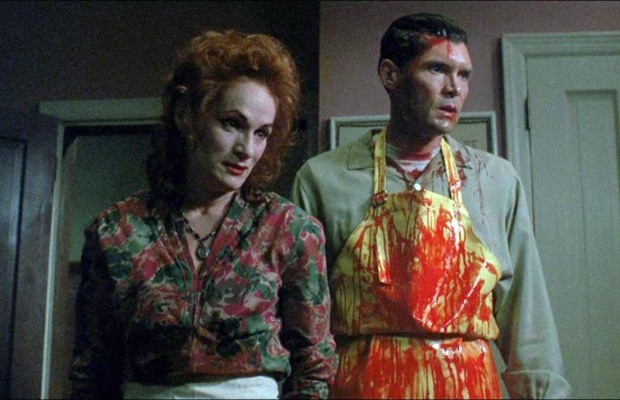 The guy was not afraid to push limits and he was always trying to merge the lines between fiction and reality in his films. He will be truly missed and I'll always be thankful for the fantastic catalog of films he produced.
Rest in Peace, Wes. 1939 – 2015